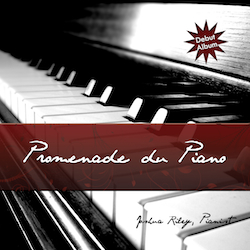 Promenade du Piano (2012) is my debut album, featuring pieces by Chopin, Mozart, Beethoven, Gillock, Billoti, Rachmaninoff, Clementi and Debussy. It includes mesmerizing favorites, such as "Claire de Lune" and "Für Elise", as well as more playful pieces like my two favorite Chopin Waltzes from Opus 64, and a Clementi Sonatina in D Major. Finally, the powerful emotion of Rachmaninoff's prelude in C-Sharp Minor and Chopin's Nocturnes bring this album to it's well-rounded close.
Choose a streaming service to listen now:
About the Album
I began recording "Promenade du Piano" (2012) in 2010 in Evansville, while I was working full-time at Staples and wanted a way to put my work into other people's hands without being present. I knew I could record high-quality audio and put together a few pieces that most audiences would enjoy (requests typically made while out performing). This prompted me to select a series of titles that would eventually be included on my first album…and a short while later, I began the recording process.
Who has really thought about all of the hard work that goes into recording music? I certainly didn't before I started. Listening to a lot of different kinds of music and having an appreciation for the quality of the performance is easy, but how often do you really listen explicity? How often do you pay close attention to what you are hearing, letting the sound of each individual phrase wash over you like a metaphorical rain? As I began recording, there were so many opportunities for new ways to make the pieces I had performed more accurate and true to the composer's original ideas that I found it quite overwhelming. Citing a close friend of my mother, "You're hearing; but, are you listening?" This very question became the cornerstone of my future recordings.
So it began. I sent my first "track", which was a terse, sans-sostenuto rendition of Chopin's Scherzo in B Minor (albeit I would later come to know this piece as "the knuckle-cracker", for a very good reason), to my parents via e-mail. They were ecstatic, and thus, the desire to continue recording more pieces and truly delve into my talents for a listening ear began. I started recording all kinds of different harmonies and sounds – I even created introductory audio files for web designs I was working on for clients! At first, it came easily. I was still adjusting my ear to hear the details of each recording. But as time wore on, I realized that most of the pieces I wanted to record would have to be performed hundreds of times before I would satisfy my careful ear's desire for near-perfect performances. Although I was never able to achieve this status, I can honestly say that I've done my very best to come as close as I physically (and mentally) am able.
About the Pieces
Copyright© 2012 Joshua Riley. All Rights Reserved. Works in the public domain, published by Hal Leonard publishing and Carl Fischer publishing. Duplication of this album without the consent of the author is a federal offense and is punishable by law.